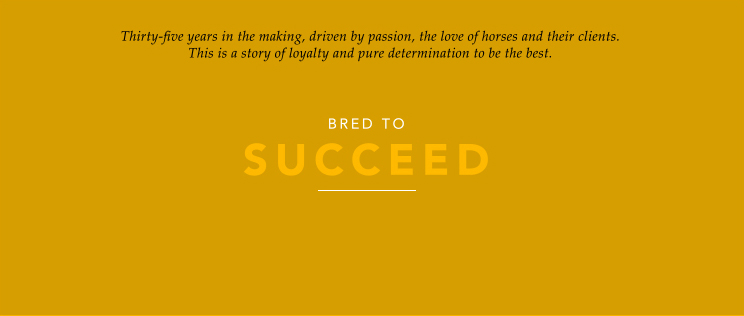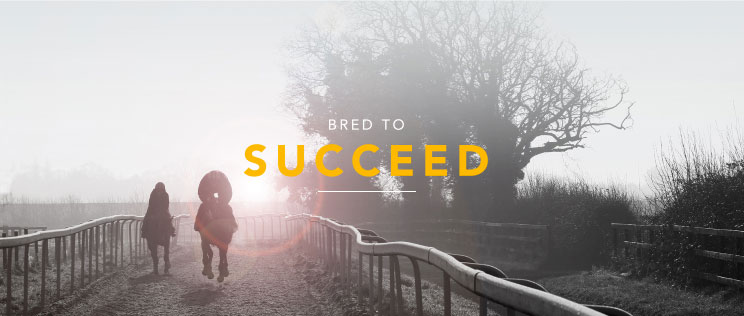 Dear Breeder
Derrinstown Stud, which was purchased in 1982, was originally a 375-acre farm in County Kildare, but has since been extended to become an internationally-renowned breeding centre
spanning over 2,000 acres.
The stud comprises of eleven farms, of which all have been carefully designed and purpose-built to the highest standards. It has a qualified resident vet plus over 90 staff, many
of whom have been trained internationally.
Derrinstown will stand four well-bred stallions in 2017, including the exciting new recruits Awtaad and Markaz. As has always been the case with Derrinstown sires, their fees have been set competitively and their books will be limited to give breeders the best possible chance to reap the rewards of their choice.
Values run deep at Derrinstown.
Dear Breeder
Derrinstown Stud , die im Jahr 1982 erworben wurde, war ursprünglich ein 375 – Morgen-Bauernhof in County Kildare , aber erweitert seitdem die sich über 2.000 Acres eine international anerkannte Zuchtzentrum zu werden. Der Bolzen besteht aus elf Betriebe , von denen alle sorgfältig entworfen worden und nach den höchsten Standards Zweck gebaut. Es verfügt über einen qualifizierten resident Tierarzt sowie mehr als 90 Mitarbeiter , von denen viele international ausgebildet wurden .
Derrinstown wird im Jahr 2017 , einschließlich der spannenden neuen Rekruten Awtaad und Markaz vier wohlerzogene Hengste stehen .
Wie der Fall mit Derrinstown Vererber immer, haben ihre Gebühren festgelegt werden wettbewerbsfähig und ihre Bücher beschränkt sein Züchter die bestmögliche Chance zu geben, die Früchte ihrer Wahl zu ernten. Die Werte sind tief in Derrinstown .
Dear Breeder
Derrinstown Stud, che è stato acquistato nel 1982, era in origine una fattoria di 375 acri nella contea di Kildare, ma dal momento che è stato esteso per diventare un fama internazionale centro di allevamento che abbracciano
oltre 2.000 acri.
Il perno è composto da undici aziende agricole, di cui tutti sono stati accuratamente progettati e costruiti appositamente per i più alti standard.
Ha un veterinario qualificato residente più sopra
90 dipendenti, molti dei quali sono stati
addestrato a livello internazionale.
Derrinstown starà quattro stalloni ben allevati nel 2017, compresi i nuovi eccitanti reclute Awtaad e Markaz. Come è sempre stato il caso con tori Derrinstown, le loro tasse sono state impostate in modo competitivo ed i loro libri saranno limitate a dare allevatori la migliore opportunità possibile per raccogliere i frutti della loro scelta.
I valori sono profonde a Derrinstown.
Dear Breeder
Dear Breeder
Derrinstown Stud, qui a été acheté en 1982, était à l'origine une ferme de 375 acres dans le comté de Kildare, mais a depuis été étendu pour devenir un centre d'élevage de renommée internationale couvrant plus de 2000 acres.
Le goujon comprend onze fermes, dont tous ont été soigneusement conçus et construits à cet effet aux normes les plus élevées.Il dispose d'un vétérinaire de résident qualifié ainsi que plus 90 employés, dont beaucoup ont été
formés à l'étranger.
Derrinstown se tiendra quatre étalons bien élevés en 2017, y compris les nouvelles recrues intéressantes Awtaad et Markaz. Comme cela
a toujours été le cas avec les taureaux
Derrinstown, leurs honoraires ont été fixés
de manière concurrentielle et leurs livres
seront limités pour donner les éleveurs la
meilleure chance possible de récolter les
fruits de leur choix.
Les valeurs sont profondes au Derrinstown.